Finding the perfect holiday gift can be exciting, but for some it can cause a bit of frustration.
Why not keep it simple with the gift of wax amaryllis kits? These kits come in all different types and styles giving you plenty of options to select from. These waxed amaryllis will last 6 to 8 weeks, bringing joy the whole holiday season!
Read on below for everything you need to know about waxed amaryllis before picking out your perfect kit.
What Are Waxed Amaryllis?
Have you ever wanted carefree blooms without the work of growing them? That is exactly what a waxed amaryllis are! Amaryllis bulbs have everything they need to produce beautiful and elegant blooms this winter!  A colourful wax coating is applied to the amaryllis bulb by hand and a wire stand is applied to the base of the bulb to keep it upright. The wax seals the moisture into the bulb, so it does not need to be potted, planted, or watered. It grows on its own! So once you have it, you don't have to do anything with it. No mess, no fuss, no worries; all you need to do is relax and enjoy! It takes about 4-6 weeks to bloom and each bulb will produce 2 or more stems of 3-4 flowers each. The after blooming care of these bulbs is a snap. Once they have finished blooming, the resources of the bulb are depleted and are ready for the compost.
Waxed Amaryllis Kit
If you are looking for something that is already in a box and ready to give, then look no further than this point. The touch of wax gift kit comes with different wax colours (gold, silver, rose pink, and burgundy red) and they make a great gift for non-gardeners because they are carefree. The bulbs themselves are also available in a red or white blooming. You can wrap up the clear box and viola instant gift.
Another option for gift giving that is novelty waxed amaryllis. Available in different colours and designs, these are great pieces to add to your décor any time of the winter season.  They can also act as a great pop of colour in a display. Easily create elegant designs for giving or to use on your own dining room table or hutch. For a natural look simply take a tall cylindrical glass vase and fill the bottom with some moss or pebbles. Place the wax amaryllis in the vase and add some fairy lights around the bulb and you are done! For a festive look, place the bulb in the base of the cylindrical vase and fill with fairy lights and ornaments. Place it around your home, wait for the flower to grow, and enjoy!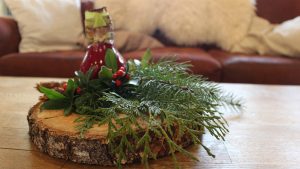 Use Your Waxed Amaryllis to Make a Centerpiece
It's time to get crafty and take your waxed amaryllis to the next level. These easy to grow bulbs make the perfect addition to any centerpiece. You can start by grabbing a wooden plank or disc, or any flat board for your centerpiece. Once you have that it is time to go out and grab some greenery. These can be large pine cones, branches from evergreen trees, or any bushes that have berries. The last item you need is your waxed amaryllis. Once you have all the supplies, start arranging the greens and amaryllis around board until you find a design that you love. If you want to make it a little more secure, feel free to glue down your greens and amaryllis with a hot glue gun. View our detailed video on how to create your own arrangement.
Just like that, your Christmas gifts and décor are all set and ready to go! Waxed amaryllis are an easy and beautiful gift to give to loved ones this season. Contact us to find a local retailer near you to pick up these beautiful bulbs that grow into beautiful flowers.